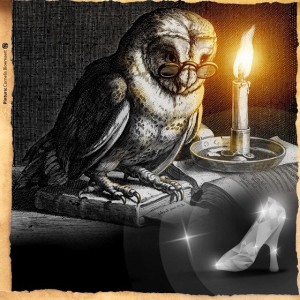 It was 4:45 am this Monday (Brasilia time), when I was awoken, after 4 hours and 15 minutes of sleep, with an unusual image.
Good-humored and satirical, a Spiritual Friend (who preferred to stay anonymous) introduced me, on a white canvas, the bizarre image of an owl that had, before it, a crystal slipper, the one similar to that of Cinderella's old fable — whose origin is attributed to Chinese traditions.
I looked at the picture… and, when I remembered the marriageable girl who, for being pure and good (and, especially, young, thin, beautiful and blonde), deserved to marry the prince heir to the kingdom (equally handsome and young, but also very rich and powerful), the artist of the other Domain of human Reality, in a tone of declamation, with a broad provocative smile, said:
"Put it on, Lady Wisdom, the crystal slipper of social conventions and personal interests. If your 'little foot' fits well, in the so perfect and charming shoe, you ma'am will be right… and everyone will live happily ever after!…
Woe to those who think they can harmonize the Will of Heaven with the demands of the Earth, the urges of the Spirit and of the vocation with the structures of value and customs of a specific culture or time, the Voice of the conscience and of the heart with the opinions and likings of this (these) or of that (those) person(s), although much loved…
As Our Master and Lord JESUS asserted, "you cannot serve two masters." And, in another episode of His Stay on the physical plane of the orb, addressing a disciple who was distressed by housework, while her sister stood at His Feet to hear Him, uttered the grave and timeless alert:
"Martha, Martha… you are restless and you worry about many things of this world, and only One Thing is important… Mary chose the best part… which will not be taken from her…"
What, my dear reader, will you prefer? To listen to the Voice of Wisdom — which is God's guidance for you — and follow It, for your own good and genuine happiness, or you will try to "fit" the sacred "little paw" of the symbolic Owl [of Wisdom], in the deceitful and sinister prison of a fragile, uncomfortable and dysfunctional "glass slipper [of the social conventions and of the personal interests] ?
Benjamin Teixeira de Aguiar and Spiritual Friends
April 8, 2018