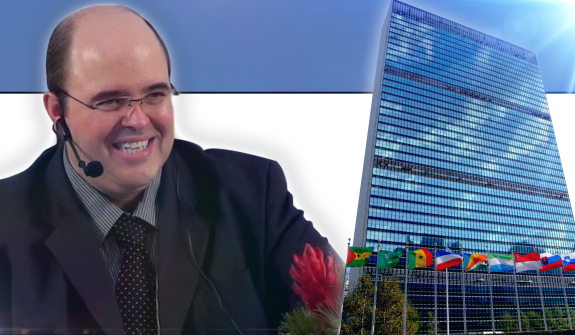 Dear Sisters and Brothers:
Because of Hurricane Sandy (the greatest, in expression – not in intensity – that we have ever heard of in the history of Meteorology), the offices of the UN headquarters were closed, these Tuesday and Wednesday, October 30th and 31st.
As a result of this unexpected fact, the Event that closes the USA-Brazil Meeting of the Quantum Leap Institute Thought (under the conduction of out leader, Benjamin Teixeira de Aguiar), with a brief circuit of conferences in the Complex of the United Nations, in Manhattan, New York, will take place this Friday, October 2nd 2012, in the same time prescheduled, from 7 p.m to 10 p.m.
Unfortunately, for electronic security reasons of the UN, the event won`t be broadcasted live, through Internet, but it will be published, partially or totally in a still undefined date. The press, however, will cover the big event, beginning by the journalist Thais Bezerra, responsible for the presentation of the Solemn Moment of Spirituality and Humanism, in the most international ambience on Earth.
We ask our dearest schoolmates of the Quantum Leap Institute the special kindness of praying for us, for the best possible development of the Partial Work of the Sublime Spirituality that was trusted to our Community of brotherhood, in the words of our beloved Master Eugenia.
Delano Mothe and Maisa Marante
Co-director and Director of the Quantum Leap Institute.
New York, Manhattan, November 1st, 2012.
Mystical Curiosity:
Our common teacher Benjamin Teixeira de Aguiar, has an interesting interpretation of the symbolism and synchronicity of the dates of the UN Event and the celebration of the "Day of the Dead" – Dia dos Finados, in Brazil: "Like the Hurricane Sandy represented a 'cleansing of the soul' in the collective north-American unconscious (curiously in the exact date originally chosen for our Meeting), we are closing a phase, a cycle, and beginning a new one, in our Institution, as well as in the collective mind (or the group collective unconscious) of our House. Nothing, really, by chance… They, our Spiritual Guides, lead everything."